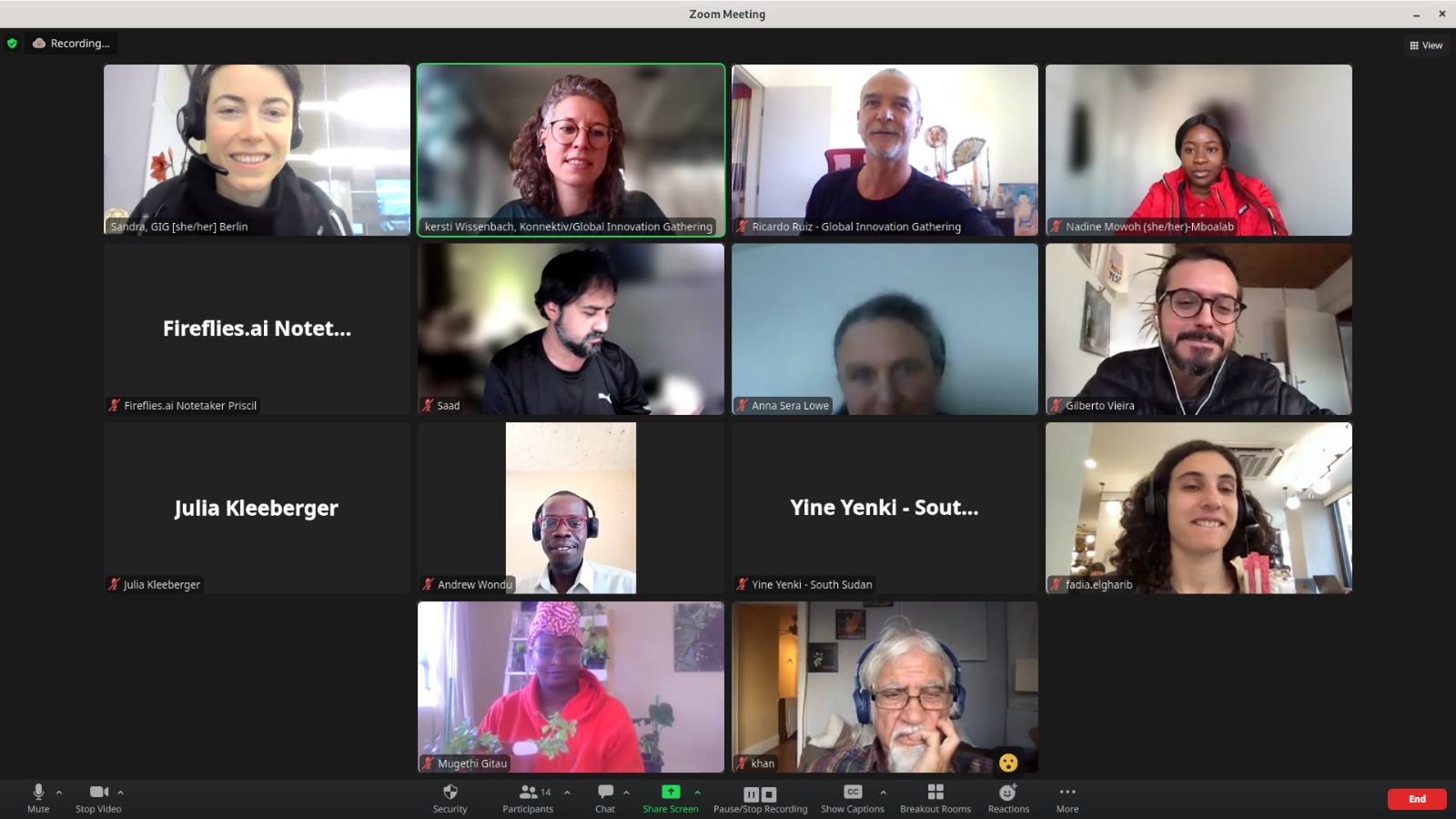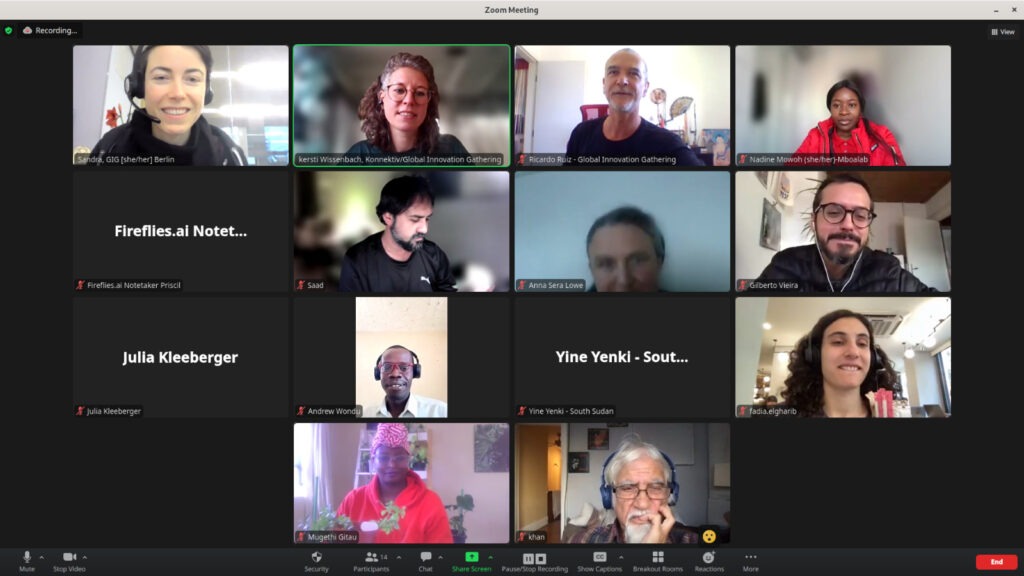 On December 14, 2022 we celebrated the launch of our Global Perspectives publication. We took the opportunity to introduce the authors and their contributions to the five topics of the publication to a wider audience. The participants had the opportunity to meet and directly engage with most of our authors. After discussing some concrete activities, experiences, etc. between participants and authors, we zoomed out to reflect on what motivated our writers to take their valuable time and contribute to Global Perspectives. We then discussed the potentials of activities like this and what more or else is needed to grow such efforts and ensure their advocacy impact to foster more diverse and inclusive perspectives and subsequent actions in the Citizen Social Science environment.
Why Global Perspectives?
Citizen Social Science aims at ´being driven by citizen groups´. But we wanted to critically explore what ´driven by citizen groups´ truly looks like and how it can truly be enabled, especially in very diverse country contexts. We saw this necessity as many research processes might consult citizens, perhaps engage them for some activities, but true participation and citizens ´driving´ a process does require more than that. Moreover, true participation, enabling citizens to be in the driver's seat of the process, faces very different hurdles in different political, social, economic, infrastructural, etc. contexts.
What did we get out of it?
Our authors from civil society and activist research shared intriguing insights, practices, and reflections with us. Within the context of the topic that they chose for their contributions, they drew conclusions as to what needs to be considered and changed to act upon the crucial issues identified to take CSS claims serious.
Also, sharing concrete examples on how they enable citizens to drive research and change processes in their concrete local contexts inspires, gives hope, and mostly, it demonstrates that it is possible and there is no excuse.
Whilst we are exploring opportunities to further grow Global Perspectives, during the launch event we celebrated the fantastic contributions of our 2022 authors. Below you can find a sneak preview. Our authors full contributions can be read here.
Locally driven protocols
Nadine Mwohoh from Mboa Lab in Cameroon stressed that local protocols, such as traditional rituals, used by local communities need to be acknowledged as robust scientific methods with demonstrated reproducibility. Although local communities might not have the terminology used in dominant science to explain the reason behind specific results, their methods still demonstrate scientific robustness and reproducibility. Whilst dominant academic scientific methods are strong in regard to standardization of procedures, they are limited to serve for inclusive applicability as advanced skills are required. On the contrary, the implementation and validation of local methods, such as traditions, does not require advanced skills and is rooted in local cultures of doing and communicating, thus meeting their concrete needs.
Mboa Lab is working with community based researchers to tap exactly into this potential. A valuable approach for CSS to prevent propelling in with disconnected methods but adapt methodological steps that allow to depart from the identification of local protocols. Read full article
The ownership of science
Gilberto Vieira, founder of data_labe in Brazil posed the question ´To whom does science belong´? He stressed that politics and science need to be thought in the crucial reflection about where to put the boundaries in constructing future science. He emphasized that the copy pasting of epistemologies from the dominant science to the peripheries does not work and, more than that, it harms the very idea of science! Gilberto shared how with is organization data_labe, they work with communities directly to foster citizen generated data approaches. This is, as he demonstrates, is crucial as all around the globe, citizens living in slums and other peripheries, the focus of data-labe´s work, are largely excluded from dominant science driven processes.
Gilberto also makes sure to emphasise that this has not always been the case but that the arrival of western science in non-western contexts has undermined traditional practices. Read full article
Also Yine Yenki Nyika from GoGirls ICT Initiative in South Sudan contributed to the Ownership of Science section, sharing with us how she and her collective are breaking through silos of disciplines in order to respond to actual concrete needs and local contexts. As South Sudan faced scarcity of hand sanitizers at the rise of the Covid pandemic some years back, GoGirls made it their task to find a solution. Exploring methods to distill high concentrated alcohol they searched for other activities based on the same need, and found solutions and great support in the traditional female brewers of their region. Step by step they moved towards their goal and what started as a small activity born out of necessity has now grown into a legally recognised independent initiative and social enterprise under the constitutional law of South Sudan. More, GoGirls is even providing a lab space for school children to try out their theories in practice. – Inspiring and demonstrating that local driven approaches can achieve great things! Read full article
Decolonizing our educational and institutional systems
Andrew Anda Wöndu from the University of Juba in South Sudan reflected upon the historical heritage of many educational systems, such as the South Sudanese one. He demonstrated how he and his colleagues at the philosophy department are taking own action to push changes from within the academic system, where the institutions are slow to enact fundamental changes to overcome their colonial legacies. He and his colleagues take own action to replace western with African philosophers. Andrew emphasised that independent formalization of educations and trainings, where formal schools do not integrate local perspectives and local knowledge, should be an option and be made available. Read full article
Practices to overcome false representation in participatory processes
Julia Kleeberger from Junge Tüftler Germany shared how they are using an experiential learning and co-creation approach to create more inclusive environments. In her blogpost she shares with us how Junge Tüftler collaborate with schools, using self-awareness as a tool for building empathy and to facilitate change of perspectives. Julia shared how they collaborate with schools to enable students to experience the obstacles students with disabilities face in day-to-day school and classroom environments. In co-creative maker processes they, then, develop solutions, ideas, and prototypes. It demonstrates the power of makerspaces, providing an environment in which people are directly engaged in tinkering solutions to their everyday challenges. Read full article
Lastly, also Khan Rahi from the Canadian Community Based Research Network shared their experiences with the creation of Conversation Circles in neighbourhoods of Toronto. The Conversation Circles aimed at giving a voice to the citizens directly, actively engaging them into conversations about selected topics. The Circles helped to shift the conventional research agendas by moving to the ground and in the direct environments of the people.
We are thrilled about all these outstanding accounts and joint effort to show the diversity of approaches, solutions, and perspectives exist when zooming out and taking a truly global account of what participatory science needs to consider and how it is already practices, even in most challenging contexts. Read full article