In 2016 the government of Austria implemented the strategy "Education until 18" by law, which states that education and training are obligatory for young people until the age of 18. This meant extending already existing offers for young people who are not in education nor training in order to create a support network for them. Yet teachers report that especially those young people who are most in need of help often do not participate in supporting offers.
Why Citizen Social Science for Youth Employment in Vienna?
Although the overall aim of "Education until 18" is to include all young people in preparatory measures or on formal education, many young people fall outside this system. The measures implemented under the umbrella of "Education until 18" aim to minimize these inequalities. Still, young people who are facing multifaceted problems, in particular, tend to quit measures as they are perceived as being too restrictive or demanding. Thus, there's a need to involve young people affected by "Education until 18" in the conceptualization and improvement of these measures, with the aim of developing offers that are adapted to their needs and circumstances.
How will it happen?
As CoAct, we plan to perform almost all steps of the research process together with selected early school leavers. In doing so, we put them at the center of the research process in order to understand their point of view, their interests, and needs for training and social policy measures. This means that the concrete research questions, the choice of method, the gathering of data, the analysis, the presentation, and dissemination of results will be done by the young people with support by adult social scientists.
In order to conduct a whole research process together with young co­-researchers, social scientific terms, concepts, and methods need to be adapted to the target group. This includes the development of different methods such as school walks, drawing sketches, box for terms, research museum or content analysis by "stop and go" which are inspired by classic social research as well as classroom training methods.
https://coactproject.univie.ac.at/
Actions since January, 2020?
Attending the WAFF Conference in January 2020 was important to become familiar with recent developments in the field of "Education up to18" as well as connecting with relevant stakeholders.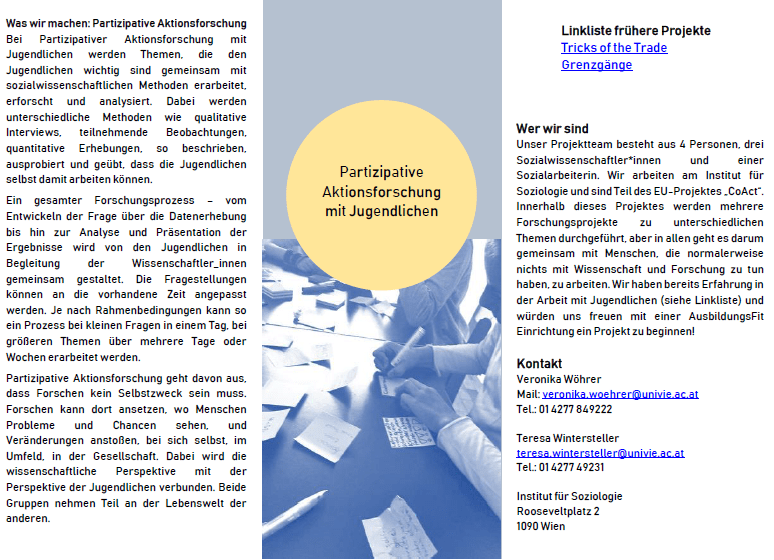 February, 2020. A brochure with essential information about the project on a local level, namely the participatory research project with…
April – July, 2020. In this process, we did research on the field of the "Education up to 18", introduced…
In this session, members of the Consortium reflected and discussed Informed Consent and simplicity in order to make Informed Consent procedures more accessible for Co-Researchers.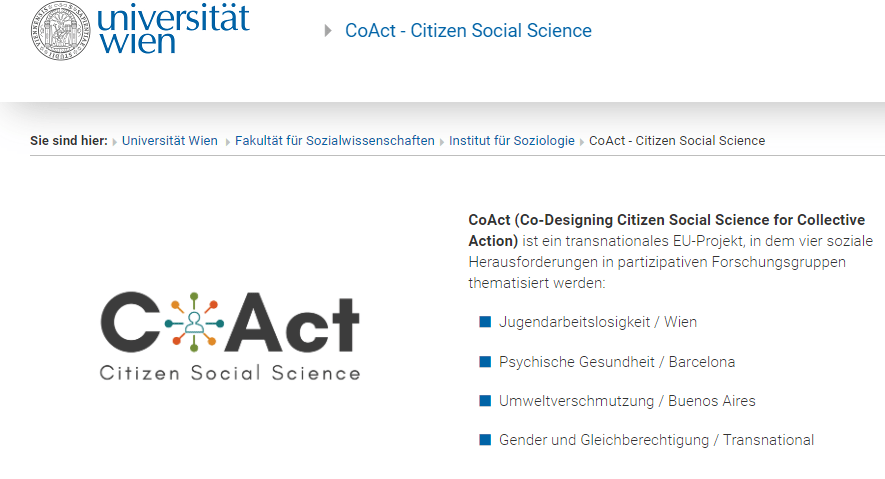 We launched the homepage for the Viennese R&I Action. It provides information on the project in German and is relevant…
This collaborative work within the Consortium aimed at re-writing passages of the Informed Consent forms in Plain Language.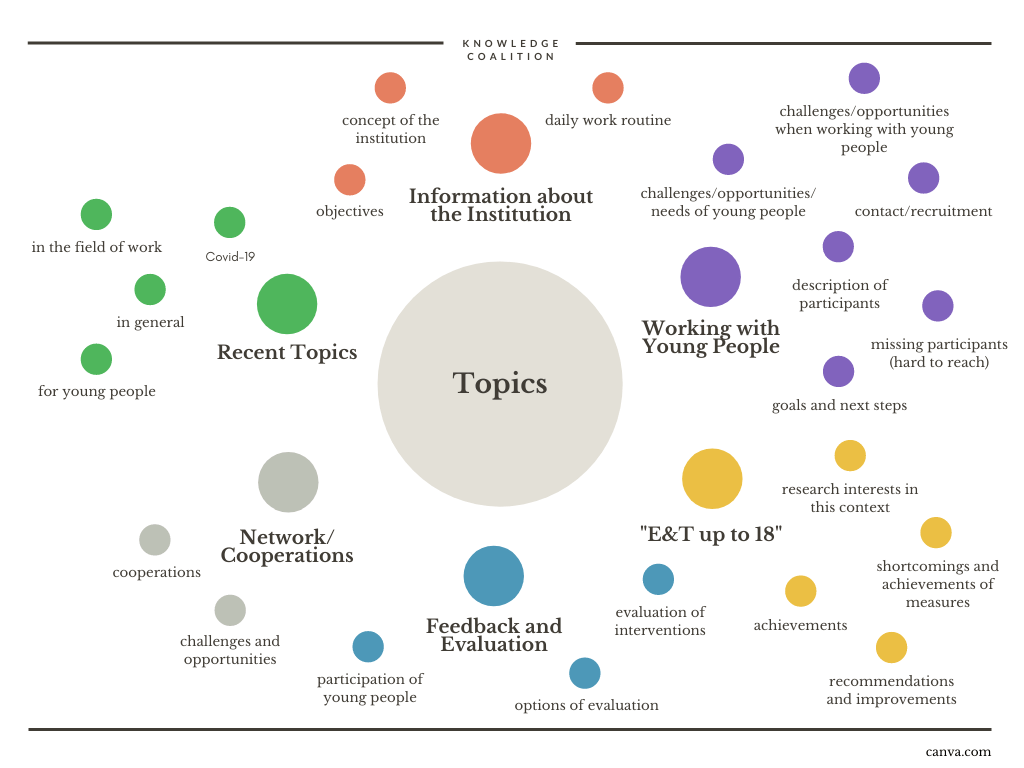 July – December, 2020. In order to get familiar with the insights and experiences of stakeholders in the field of…
September, 2020. To ensure dynamic participation of the Knowledge Coalition, an online form was set up on the homepage. People…
"Reaching the hard to reach? Reflexionen und Strategien zur Einbindung von Co-Forschenden, die als schwer erreichbar gelten", workshop held at…
Presentation "Citizen Social Science. The example of participatory research with young people not in education, employment or training (NEET)" in…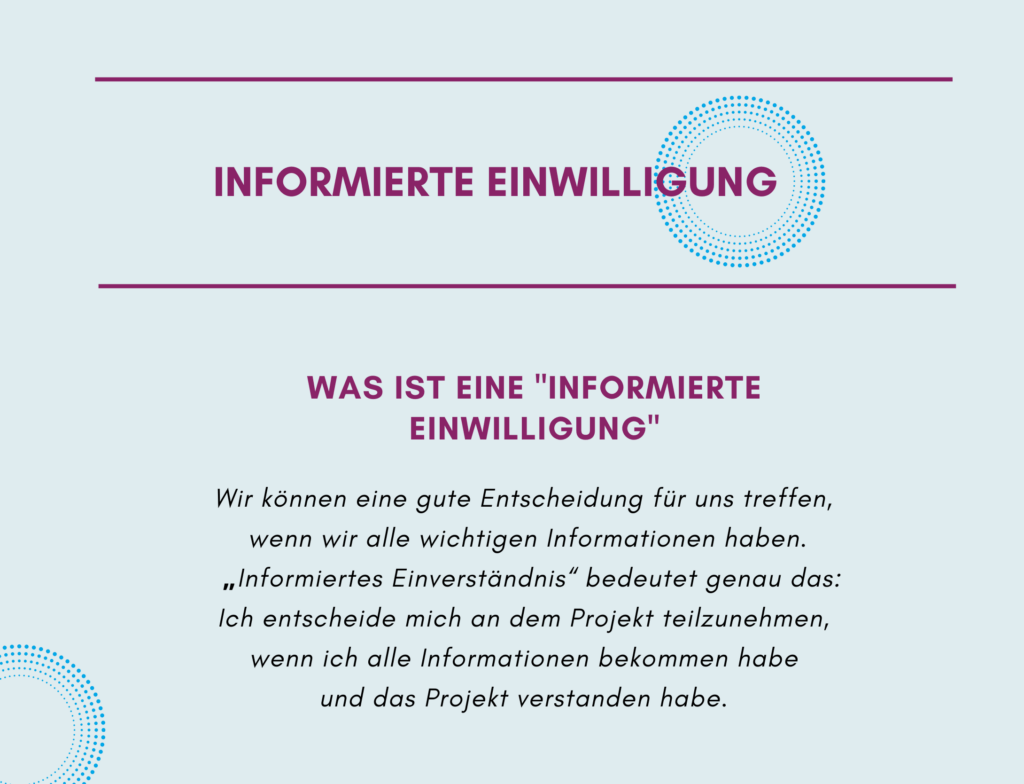 October, 2020. We prepared visual materials to make information accessible to the participants. The following posters (in German) were discussed…
2 – 6 October, 2020. Preparatory work for first Co-Creation included discussions on Participatory Action Research and planning the one-week…
We use Instagram as a medium to reach not only young people, but also youth and social workers and youth organizations.…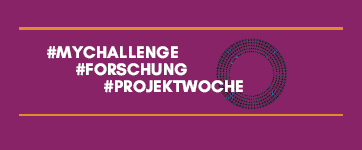 In this informal meeting we got to know each other and introduced the project as well as the topic of…
Participation at the Citizen Science SDG Conference with the following workshop: "Participatory approach centering life-world experiences", facilitated by Mariam Malik…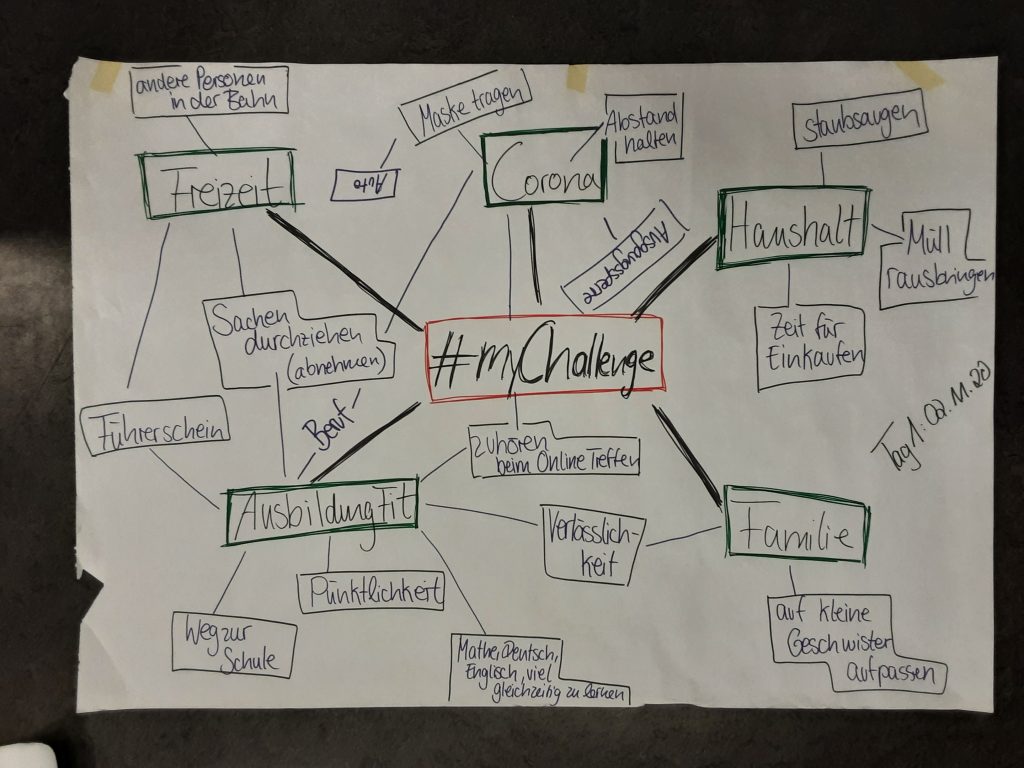 In this online meeting we continued to talk about the topic of #MyChallenge and gathered insights in topics that were…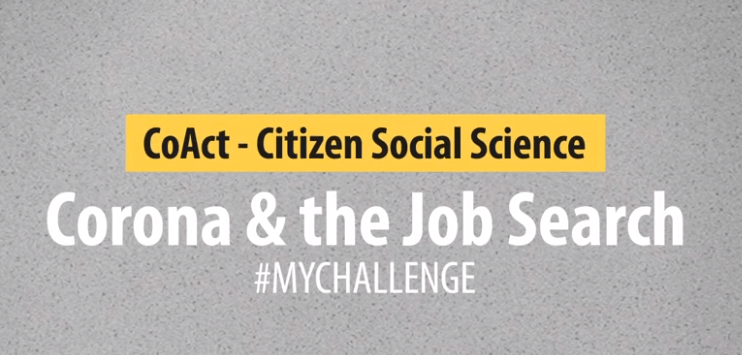 2 – 6 November, 2020. In this Co-Creation sessions, we did research with young people attending measures of the Education…
17 – 19 November, 2020. The team reflected on the process of the first Co-Creation, at some point also with…
As the other R&I Actions, we completed the Knowledge Coaliton Report in which we mapped the local context of the…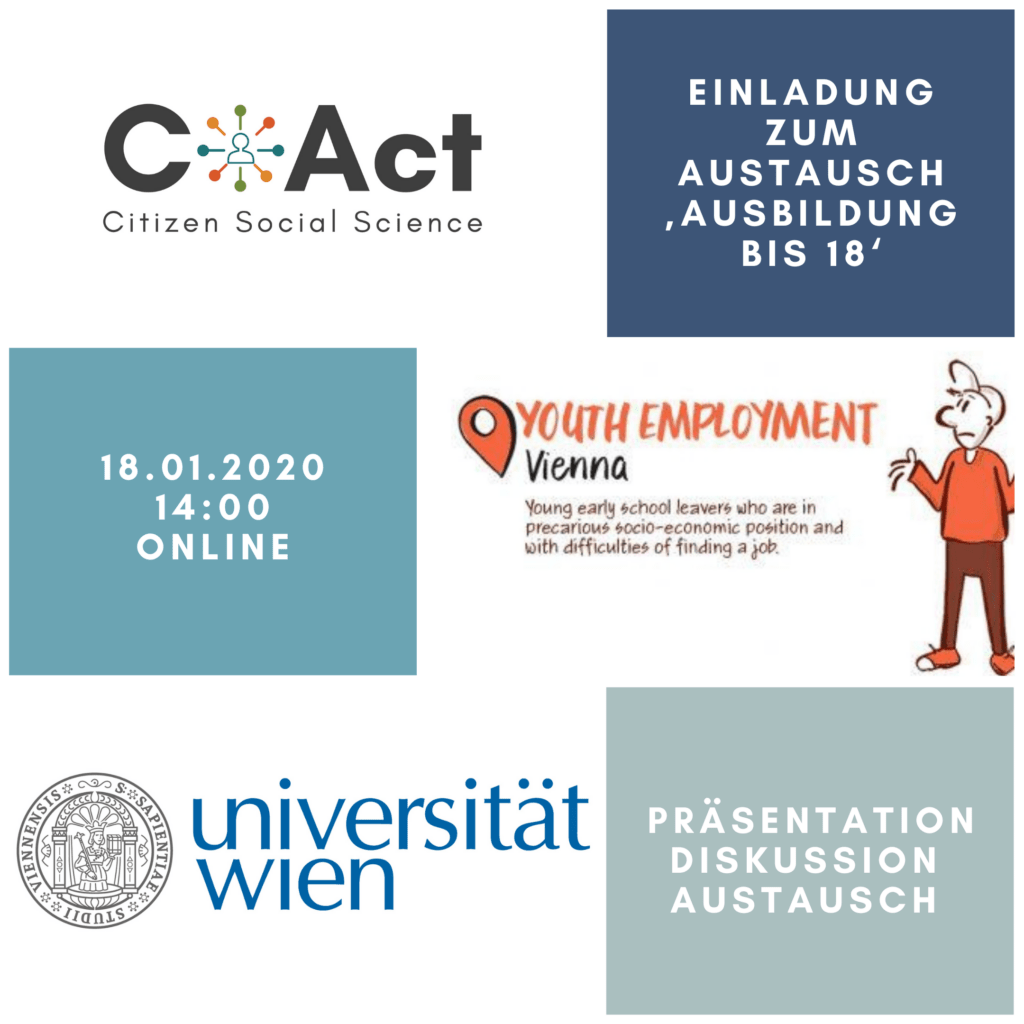 In December, we sent out the invitations for a first meeting of the Knowledge Coalition, which was scheduled for January…
The aim of the internal online session was to enhance the collaboration between the R&I Actions and reflect on Informed…
In January we organised the kick-off event for the members of our Knowledge Coalition. A broad group of people including…
Since the research activities in Vienna were influenced by Covid-19 and accordingly the restrictions placed upon the educational sector we…
The trainers of educational measures for unemployed youth brought to our attention that there is a lack of opportunities for…
6th of April / 20th of April / 26th of May  Since young people in E&T up to 18 measures…
What challenges do trainers and coaches working with young people in E&T up to 18 measures face? How can we…
To react to the current circumstances affecting youth researchers and youth workers alike, we organised a Webinar with Juha Kiviniemi…
11th of May and 18th of May   Together with 7 young people we started a two-day exploratory online co-research session…
12th of May  until 22nd of June  In the last months we created a toolbox that allows young people to…
The 3rd trainer-only meeting provided a platform for communicating recent research activities done with young people as well as gave…
As a result of our cooperation with Knowledge Coalition members a need was detected to organise an event specifically for…
The Knowledge Coalition event updated the KC members on the activities of the project.
As part of our activities with all members of CoAct we intensely discussed how to ethically implement Informed Consent in…
16.-19th August – Our 2nd research week with young people in Education and Training up to 18 measures took place!…
The 4th trainer-only meeting corona measures taken within institutions was still a topic but mainly the issue of too little…
27.09. – 01.10. – Our 3rd research week with young people took place in September. This time the young people…
11.10.-18.10.2021 – In the 4th research week with young co-researchers of an Education and Training up to 18 institution, the…
The 5th KC-Trainer-Only meeting revolved around the upcoming events in 2022. 1) the Roundtables with policymakers and other stakeholders and…
Before releasing the Actionbound we organized a workshop for practitioners working directly with young people to introduce the tool. To…
After implementing the feedback given by young people in educational measures we officially released the Actionbound "Actionrsearch on Education and…
In December we submitted the deliverable D2.3 on Informed Consent. The report connects theories on informed consent with practical experiences…