Citizen Social Science School: Social Dimensions in Citizen Science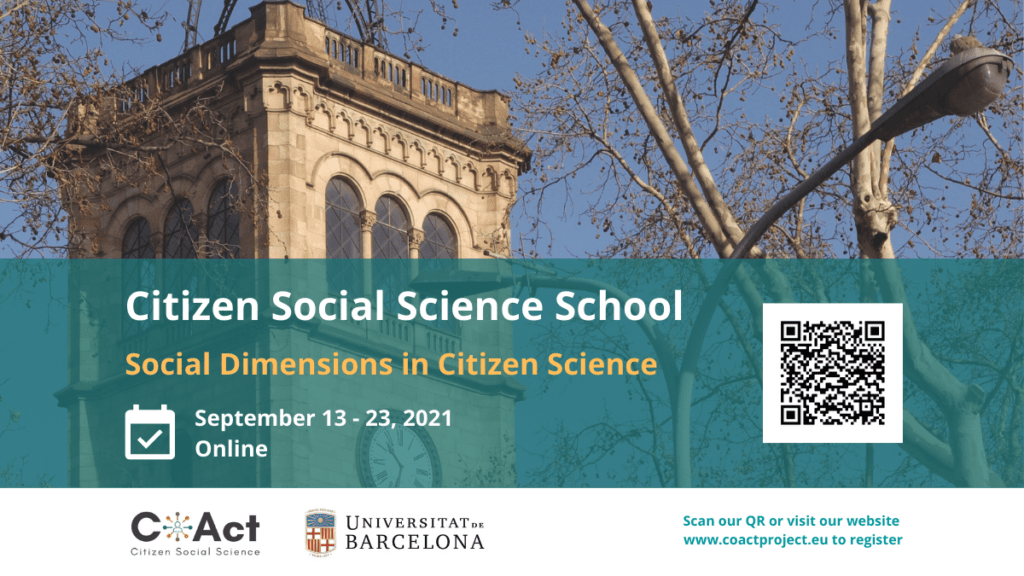 | | |
| --- | --- |
| Date: September 13-23, 2021 | |
| Place: Online (Zoom and Campus Virtual UB / Moodle) | |
| Max. Number of attendees: 50 | |
| Number of hours: 36 hours | |
| Deadline for expression of interest: July 15, 2021 | |
| Documents to provide: Short CV/Max 2 pages and a 200 words Motivation Letter (through a form) | |
Goal
The main goal is to offer academic researchers a common space and a shared time to reflect, discuss, learn, and receive practical guidelines to explore social dimensions behind a wide set of Citizen Science practices related to social issues and when involving groups and persons in a vulnerable situation acting as co-researchers.
Theme
Citizen Social Science is a participatory research approach co-designed and directly driven by citizen groups sharing a social concern. There are many ways to enhance the social dimension of Citizen Science, but the school will focus on the possibilities of running participatory research involving groups in a vulnerable situation that act as co-researchers.
The school takes impulse from the EU H2020 SWAFS CoAct (Co-designing Citizen Social Science for Collective Action) project experiences and partners. It aims to invigorate the academic community around a wide set of Citizen Social Science practices while providing a critical view on their strengths and challenges. School participants will have the opportunity to discuss, identify and develop skills to conduct a Citizen Social Science project. The school will explore aspects and dimensions to be considered and will provide tools and resources. It will introduce participants to visions, disciplines and methods helping to enhance the social dimension in Citizen Science set of practices. The school will also critically discuss challenges and difficulties in practical terms and based on specific international experiences (Spain, Austria, and Argentina among others).
The school is addressed to researchers who want to learn how Citizen Social Science can be realised. Early-career researchers are highly welcome, as are any other researcher since the school aims to be inclusive in all terms. The school also seeks for diversity of profiles, perspectives, and scientific disciplines among participants to enable a mutual learning environment.
The school is a formal education activity officially recognized by the Universitat de Barcelona.
Learning Outcomes
The participant will have the opportunity to learn aspects related to the following elements:  
Review of transdisciplinary aspects in the context of Citizen Social Science (e.g. Open Science, Ethical Research, Digital participation, Co-evaluation and Policy Impact) 
Practical examples of Citizen Social Science practices where groups in a vulnerable situation are acting as co-researchers 
Portfolio of collaborative participatory research models (interdisciplinary, intersectoral and international)  
Practical tools to maximize success and minimize challenges of Citizen Social Science 
Development of an international network of peers  
Strategies to be inclusive in a citizen science project 
Participants Requirements
Participation from a wide range of disciplines, countries and socio-economic and cultural backgrounds are highly encouraged. Early-career researchers, such as registered doctoral researcher at a university or post-doctoral researcher, are particularly welcomed but not limited to. Early-career researchers should be keenly motivated to work intensively and contribute over the course of the two weeks. Candidates must be available for the entire duration of the school and must be prepared to actively participate in all activities.  All sessions will be conducted in English, and therefore fluency in both spoken and written English is highly recommended.
Evaluation and UB Attendance Certificate
Participants will receive a certificate if they participate more than 80% of the sessions and give a final presentation made in small groups (about 6 persons per group). Evaluation will be given in terms of the final presentation. 
How to Apply?
Submission is now closed but we are now opening a waiting list. If you are interested to participate please apply anyway and we will come back to you as soon as possible. Fill in the following form
General Structure
September 13-17, 2021: Monday to Friday (13:30h-18h CEST)
September 20-23, 2021: Monday to Thursday (13:30h-18h CEST)
36 hours in total.
The school includes three types of activities (2 hours duration each): 
5 seminars with round tables will encourage discussion, reflection and debate. They will focus on several aspects which might not be the general rule in the academic world. Selected topics include citizen labs, makers' world, knowledge commons and public or collective experiments. These topics will surely spark broader discussions involving many other relevant topics via face to face exchange of visions and perspectives.
7 workshops will offer a very practical basis, which in most cases will be grounded on practical experience raised by CoAct partners. Two workshops will particularly focus on our relationship with data in a playful manner and practical aspects related to open science, which we consider important aspects in the discussion on the social dimensions of Citizen Science.
4 mentoring and working together sessions will allow you to be in direct contact with us as organisers of the school as well as with a selected group of mentors. The sessions will also allow you to work together with your school mates that show fabulous skills as expressed in their motivation letter and bio. You will work in small groups to strengthen specific aspects of Citizen Social Science projects related to your field, background, or interests.
If you have questions or doubts do not hesitate to contact us. Send an email to opensystems@ub.edu