CoAct's Research and Innovation (R&I) Actions
CoAct develops and tests new Citizen Social Science methods in four thematically and geographically dedicated projects, the R&I Actions. In all R&I Actions, citizens in a vulnerable situation are placed at the centre of the research and their role and dedication conceptually recognize them as Co-Researchers.
These projects will work with co-creation methods in order to respond to social concerns shared by citizens who are experts in four thematic areas. We will work on Mental Health Care in Spain, Youth Employment in Vienna, Environmental Justice in Buenos Aires, and Gender Equality in Europe. These cases were chosen specifically to illustrate the range of possibilities in applying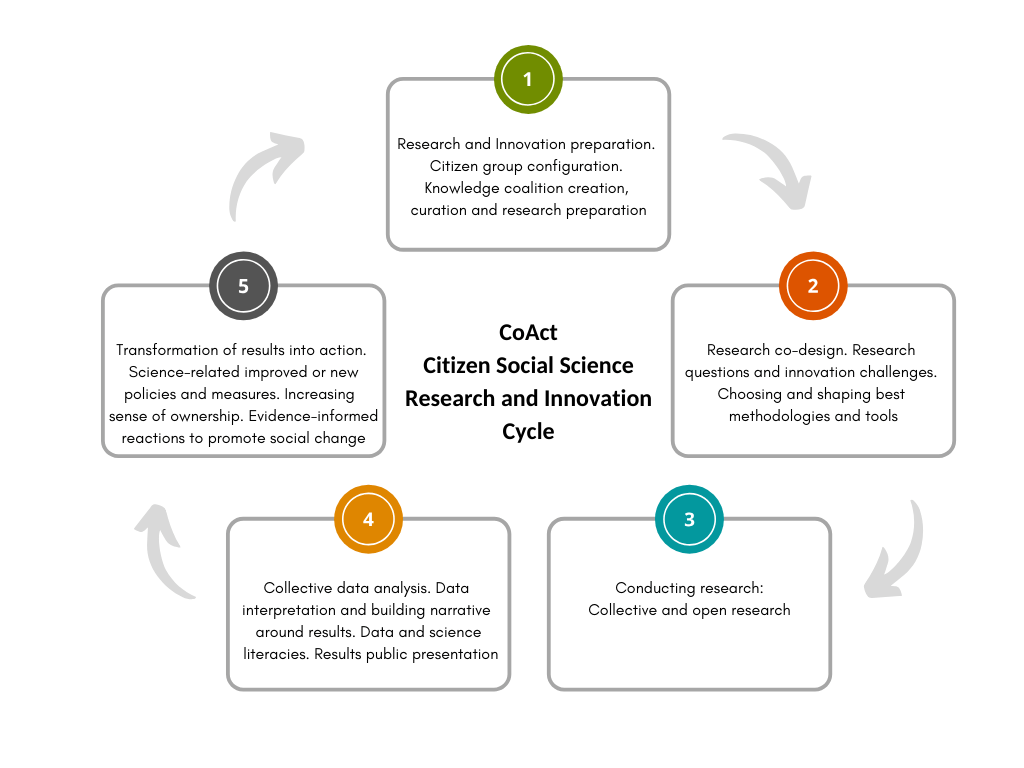 Why these actions?
Our approach to Citizen Social Science puts at the centre of all actions a focus on power relations, meaning-making processes, mechanisms, and context-specific challenges which people are experiencing. By learning from ongoing experiences and innovative grassroots initiatives, we wish to establish a framework accounting for such a focus on both a local and a more generalised level. For this reason, we take as a starting point three local experiences (Barcelona, Vienna, Buenos Aires), with a well-­defined citizen group that shares a social concern which can be successfully addressed with a Citizen Social Science approach.
How will the R&I Actions evolve over time?
CoAct started in January 2020 and will last three years. During this time, the methods, tools, the communities that will shape and use them, and the strategies of each R&I Action will all co­-evolve. This also means that content will be added to the website as our projects and communities move forward collaboratively!