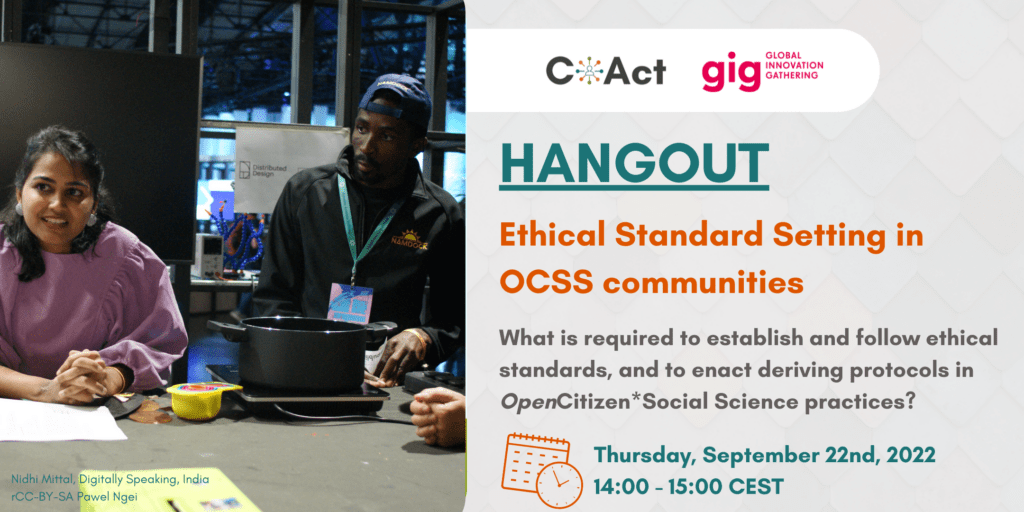 On September 22 we will meet for our fifth and final hangout in the process to raise our voices with Global Perspectives in CSS. This time we warmly invite you to discuss with us what is required in order to establish and follow ethical standards and enact deriving protolocals in OpenCitizen*Social Science processes!
"We need more advocacy for the ethics in Open Science (and we will need it for Citizen Social Science too) in order to foster better documentation of open science processes. We need to create protocols to account for the voices of all those communities rooted in oral traditions in this process. The end goal of a participatory process needs to be the community and what needs to be done for them to get impact as defined by them.
Join us for a vibrant discussion!
Register now to join the event
Please register via this form and you will receive the link to the hangout via email on the day of the event.
The Global Innovation Gathering is a consortium member of the Horizon 2020 project 'CoAct – Co-Creating a Citizen Social Science Approach'. Within CoAct, one of our goals is to foster a critical debate, addressing what Co-Creation, what inclusive approaches, and what science should look like when accounting for multiple voices, needs, and traditions from all around the world.
Throughout the year we are going to host five hangouts discussing central topics the community identified. You can read more here.
These hangouts accompany a process of co-writing that brings together all our critical understandings to inclusive Citizen Social Science from a gloCal perspective. Would you like to become a co-author? Please reach out to us via kersti@globalinnovationgathering.org
Are you still not part of our *Open*Citizen*Social*Science Community signal group? Join us to stay in the loop: https://coactproject.eu/our-community/