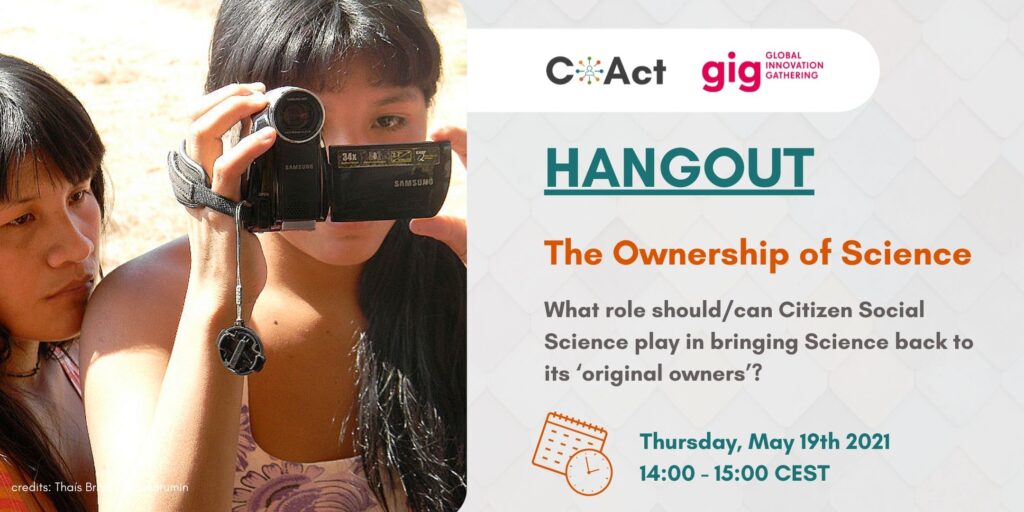 Don't miss it and join us on Thursday, May 19th, 2PM CET
We will meet for the second of our series of five hangouts providing a space for conversation and co-shaping an inclusive *Open *Citizen *Social Science landscape – Voices and methods from around the world.
The discussions in this session will be held around the topic 'Ownership of Science'. We should acknowledge the constant interaction of science and 'livinghood'. Taking care of others, enacting rituals, making remedies. Is Citizen Social Science about bringing science back to its original 'owners'? Do we have to admit that science is social in its essence and has always been? An example is traditional medicine, which was open source before being compromised by the industries. During the hangout we will discuss what role Citizen Social Science should/can play in bringing Science back to its 'original owners'.
Time: April 21, 2022 02:00 PM CEST (Amsterdam, Berlin, Rome, Stockholm, Vienna)
Are you still not part of our *Open*Citizen*Social*Science Community signal group? Join us to stay in the loop: https://coactproject.eu/our-community/
Throughout the year we are going to host five hangouts discussing central topics the community identified. You can read more here. These hangouts accompany a process of co-writing that brings together all our critical understandings to inclusive Citizen Social Science from a gloCal perspective. Would you like to become a co-author? Please reach out to us via kersti@globalinnovationgathering.org