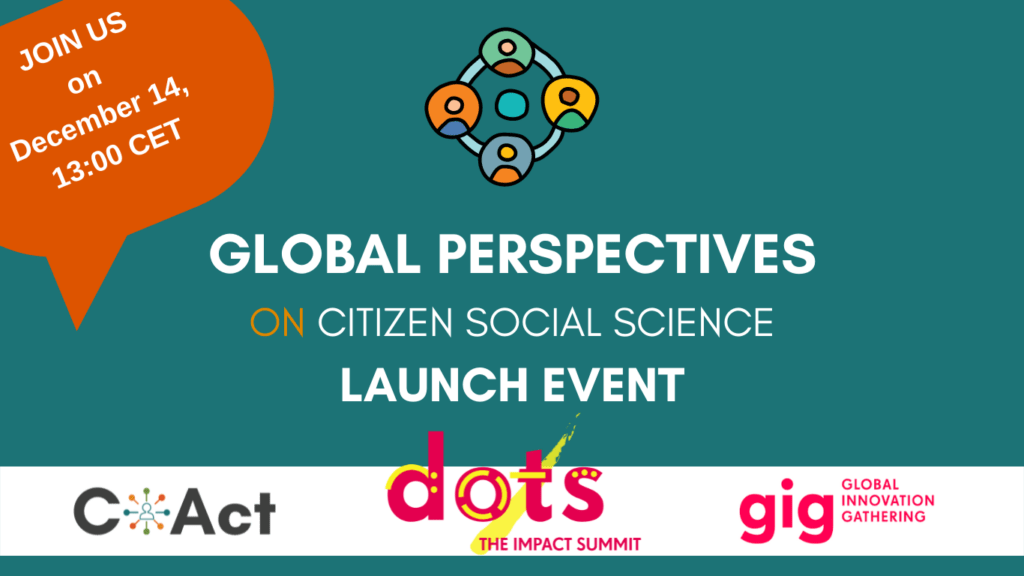 Over the last three years, GIG acted as consortium partner of the Horizon 2020 project CoAct, which set out to develop a Citizen Social Science Approach. As one of our main responsibilities was to build a community, we made it one of our core missions to increase diversity of perspectives and to demonstrate the plenitude of civic driven science already existing around the world once we break open certain understandings of science and education.
One out of numerous activities we undertook was the co-creation of a publication compiling local views and experiences from around the world – the Global Perspectives Publication.
Two years ago, during DOTs we identified five topics we considered central to discuss when striving to develop a Civil Society Approach that can hold up to diverse contexts around the world rather than risking become a western perspective on how participation in research should look like.
We invited practitioners and researchers to share their insights on one of the following topics
Locally driven protocols and local traditions in Science
The Ownership of Science
Decolonizing our educational/institutional influences
Practices to overcome false representation in participatory processes
Ethical standard setting in OCSS communities
During this year's DOTs we wish to come together and celebrate the inspiring accounts our co-authors have contributed and to open a space to reflect on the five topics underlying our publication. To discuss what more is needed and how to achieve this together to keep contributing to a more diverse, inclusive, and constructively critical discourse when it comes to participation in our practical and institutional practices.
Feel warmly invited to join our remarkable authors and us for a delightful moment of celebration and moving ahead.
You will have the chance to learn more about their work, ask questions, network, and share your experiences!
December the 14th at 13:00 CET