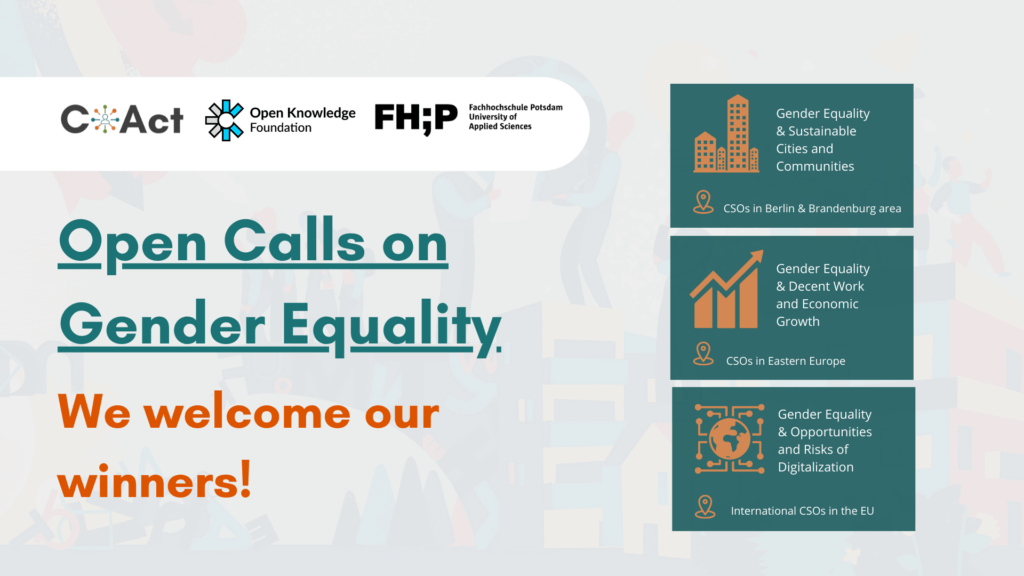 On July 1st, 2021, the CoAct project launched three open calls, inviting European civil society initiatives to apply for our cascading grants of max. EUR 20.000,- to conduct Citizen Social Science research on the topic of Gender Equality.
The calls officially closed on September 30th, 2021. During these three months, CoAct facilitated several sessions and activities to disseminate the calls across our targeted communities in Europe. A total of 15 applications were received from civil society initiatives in Germany, Slovakia, Bulgaria, the Netherlands, Sweden, Spain, Italy, and Greece.
We are now excited to announce the results, and to warmly welcome the winners of the open calls on Gender Equality!
Following a rigorous evaluation and selection process, we have nominated the following organizations:
Gender Equality & Sustainable Cities and Communities / CSOs in Berlin & Brandenburg area

Founderland supports women founders based in Europe who've faced obstacles tied to their ethnicity/race in their business journeys. They bring founders, allies and investors together to get more diverse, sustainable and scalable businesses funded. Founderland is based in Berlin, Germany.
Gender Equality & Decent Work and Economic Growth / CSOs in Eastern Europe

Single Step's mission is to support, motivate and empower LGBTI ("Lesbian, Gay, Bisexual, Trans and Intersex") youth, their families, friends and allies in Bulgaria through the process of recognizing, coming out and affirming their sexual orientation and gender identity. Single step is based in Bulgaria.
Gender Equality & Opportunities and Risks of Digitalization / International CSOs in the EU

Women On Top is an organization for the professional empowerment of women and for equality at the workplace. Using mentoring, lifelong learning, consulting and content creation as tools, they seek to support working and unemployed women and their environment so that together they can create a more equal future for all. Women On Top is based in Greece.
We welcome them to the CoAct community and we are looking forward to sharing more about their work with you soon.